BACK TO SCHOOL 26TH AUGUST 2020…
Hi everyone, we hope you're all keeping safe and well. Just a little reminder that school reopens Wednesday 26th August. We can't wait to see all of you!!!
Here's this year's School Calendar: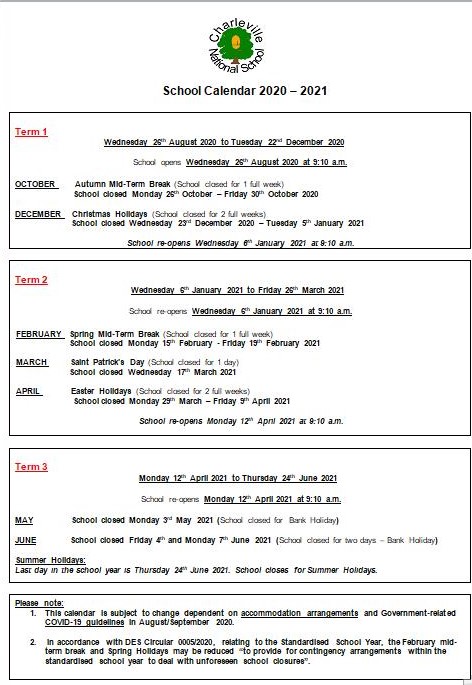 FROM ALL THE STAFF AT C.N.S….
HAVE A VERY SAFE, ENJOYABLE AND 'HAPPY' SUMMER.
WE LOOK FORWARD TO SEEING YOU AFTER THE HOLIDAYS.
(Click on the link below)
https://photos.app.goo.gl/rTMKPtkuCTFDRBtBA
……………………………………..
BOOK RENTAL
PLEASE NOTE :
All School Book Rental books will be distributed to the children on their return to school after the Summer  Holidays
…………………………….
About us….
Charleville National School is situated on Church View, Tullamore, Co. Offaly. There are 90 pupils attending our school. The school has 5 permanent teachers; 4 mainstream class teachers, one full time SEN (Special Educational Needs) teacher, one part-time SEN teacher and two Special Needs Assistants. Ms Gloria Mollison is the school's Principal.
Charleville National School is a Church of Ireland School established by the Minister for Education. We aim to promote the full and harmonious development of all aspects of the pupil, intellectual, physical, cultural, moral and spiritual including a living relationship with God and with other people. The School provides Religious Education for our pupils in accordance with the doctrines, practices and traditions of the Church of Ireland and promotes the formation of pupils in the Church of Ireland faith.
The aim of Charleville National School is to provide a caring learning environment, which facilitates the nurturing of each pupil's full educational potential.  The achievement of this aim is reached through careful planning, communication with parents and through our daily academic routines in accordance with the Department of Education Primary School Curriculum (1999). Teachers and parents are partners in the children's education, with co-operation and communication between home and school being vital ingredients in the educational process.
Through this website we aim to share information with parents, prospective parents and the wider community concerning school policies, rules and routines. Charleville operates in accordance with the Education Act 1998 and the Rules for National Schools as determined by the Department of Education and Skills.