'ALL TOGETHER NOW'
Mr Smyth's Favourite Band – OK Go – have a new video about LOCKDOWN
OFFALY'S LONGEST DAY PROJECT
The 19-day physical activity challenge is brought to you by
Offaly Sports Partnership, Offaly LCDC and Healthy Offaly
https://www.offalysports.ie/events/offaly-aos-longest-day
Try to take part and be in with a chance to win €100!!
.…………………………………………………
A BIG 'HELLO!' VIDEO FROM ALL THE STAFF
https://photos.app.goo.gl/zbf3pqFMat3kdjWP8
CHILDREN'S ART COMPETITION
https://into.newsweaver.ie/icfiles/1/3461/226109/6348250/d3753eda05503f31bd8d3f3e/art%20competition%20-%20european%20day%20of%20solidarity%20between%20generations.pdf
"STAY SAFE, STAY CALM AND CHERISH YOUR CHILDREN"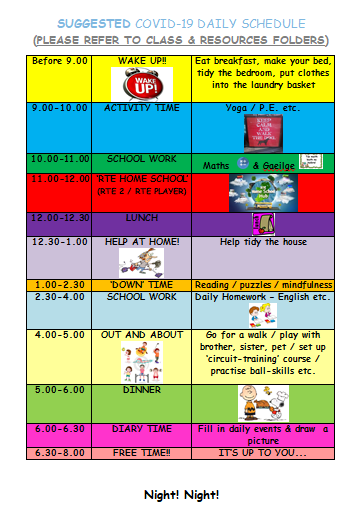 Who says you can't have 'Circle Time' EVERYDAY?!
Dear Parents,
We have offered a lot of suggestions to your children for things to do during this time of uncertainty – there are many instructions, ideas and websites to help them continue with their schoolwork. The schoolwork should look after itself, but if it doesn't, DON'T WORRY!! That's what we teachers are here for… when we get through all of this, we'll be there to get everybody back on track. That's what we do. We'll get everyone back to normal and WE will look after the schoolwork.
The children are just as scared as we are right now.  Not only can they hear everything that is going on around them, but they feel our constant tension and anxiety.  They have never experienced anything like this before. Neither have we. Although the idea of being off school for weeks sounds great, they are probably picturing a fun time where they can go out freely and play with their friends, not the reality of being stuck at home away from friends and extended family members.
What they need right now is to feel comforted and loved – to feel that it's all going to be okay. That might mean that you tear up the perfect schoolwork schedule and focus on your child a bit more. Play outside and go on walks…do some cooking…bake cookies and paint pictures…play board games and watch movies…do a science experiment together or find virtual field trips of the zoo…start a book and read together as a family…do 15 minutes of 'mindfulness' (they'll show you how)…do SILLY things!!! 
And, don't forget to snuggle up and enjoy doing absolutely nothing…yes….NOTHING!! 
When this crisis has passed, your children's mental health will be more important than their academic skills.  And how they felt during this time will stay with them long after the memory of what they did during those weeks is long gone.  So, please, keep that in mind, every single day.
We're all missing the children very much.
We'll get them back on track.
(CLICK !! WHOLE-SCHOOL ACTIVITIES FOR SCHOOL CLOSURE!! folder for lots of fun ideas)
ALSO…..VERY IMPORTANT….
#RTEHomeSchool launches this Monday 30TH MARCH! A daily, scheduled virtual classroom for all primary school kids. Watch it weekdays on #RTE2 from 11am, anytime on the @RTEPlayer and get all the resources at https://t.co/KSUgxxlRAu pic.twitter.com/pqkZgPu6jl
MESSAGE TO PARENTS FROM IRISH PRIMARY PRINCIPALS NETWORK
https://www.youtube.com/watch?v=ZgIAKPko1yw

COVID-19
INFORMATION FOR EVERYONE
https://www.hse.ie/eng/services/news/newsfeatures/covid19-updates/partner-resources/covid-19-translated-resources/
About us….
Charleville National School is situated on Church View, Tullamore, Co. Offaly. There are 90 pupils attending our school. The school has 5 permanent teachers; 4 mainstream class teachers, one full time SEN (Special Educational Needs) teacher, one part-time SEN teacher and two Special Needs Assistants. Ms Gloria Mollison is the school's Principal.
Charleville National School is a Church of Ireland School established by the Minister for Education. We aim to promote the full and harmonious development of all aspects of the pupil, intellectual, physical, cultural, moral and spiritual including a living relationship with God and with other people. The School provides Religious Education for our pupils in accordance with the doctrines, practices and traditions of the Church of Ireland and promotes the formation of pupils in the Church of Ireland faith.
The aim of Charleville National School is to provide a caring learning environment, which facilitates the nurturing of each pupil's full educational potential.  The achievement of this aim is reached through careful planning, communication with parents and through our daily academic routines in accordance with the Department of Education Primary School Curriculum (1999). Teachers and parents are partners in the children's education, with co-operation and communication between home and school being vital ingredients in the educational process.
Through this website we aim to share information with parents, prospective parents and the wider community concerning school policies, rules and routines. Charleville operates in accordance with the Education Act 1998 and the Rules for National Schools as determined by the Department of Education and Skills.