Charleville National School is situated on Church View, Tullamore, Co. Offaly. There are 129 pupils attending our school. The school has 6 permanent teachers; 5 mainstream class teachers, one full time SEN (Special Educational Needs) teacher, one part-time SEN teacher and two Special Needs Assistants. Ms Gloria Mollison is the school's Principal.
Charleville National School is a Church of Ireland School established by the Minister for Education. We aim to promote the full and harmonious development of all aspects of the pupil, intellectual, physical, cultural, moral and spiritual including a living relationship with God and with other people. The School provides Religious Education for our pupils in accordance with the doctrines, practices and traditions of the Church of Ireland and promotes the formation of pupils in the Church of Ireland faith.
The aim of Charleville National School is to provide a caring learning environment, which facilitates the nurturing of each pupil's full educational potential.  The achievement of this aim is reached through careful planning, communication with parents and through our daily academic routines in accordance with the Department of Education Primary School Curriculum (1999). Teachers and parents are partners in the children's education, with co-operation and communication between home and school being vital ingredients in the educational process.
Through this website we aim to share information with parents, prospective parents and the wider community concerning school policies, rules and routines. Charleville operates in accordance with the Education Act 1998 and the Rules for National Schools as determined by the Department of Education and Skills.
STAFFING AND ORGANISATION
Chairperson: Rev. Canon Isaac Delamere
Principal: Ms Gloria Mollison
Deputy Principal: Mr Jim Smyth
Junior and Senior Infants: Mrs Alison Dunican
First and Second Class: Ms Claire Finlay
Third Class:Ms Kay Power
Fourth Class: Mr Jim Smyth
Fifth and Sixth Class: Ms Jennifer Foster
SEN Team: Ms Gloria Mollison and Ms Mary Kate Duggan
SNA Team: Ms Sheila Crowe, Ms Hilary Duncan and Ms Nastia Zamoiska
EAL Teacher: Ms Gemma Sheppard
Caretaker: Mr Alan O'Brien
Secretary: Ms Andrea Lynch
SCHOOL HOURS
9.00 a.m. School doors open for children to enter the classrooms
9.15 a.m. Start of the school day
11.00 – 11.15 a.m. Small Break
12.50 – 1.15 p.m. Lunch
2.00 p.m. Junior and Senior Infants go home
2.40 p.m. End of school day
ASSEMBLY
Every Thursday morning our whole school gathers in the G.P. room for assembly.  Canon Isaac joins us too. We have Bible readings, prayers and we sing a new song every week. Each week one class group leads the assembly; usually dramatising a bible story and even dressing up in costume.  We share any special news we have and we celebrate birthdays. We really enjoy listening to Canon Isaac's stories which always have an important message.
OUR SCHOOL UNIFORM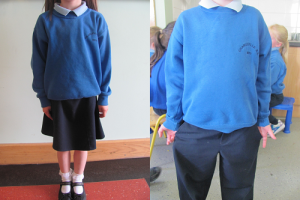 For our school uniform we wear:
A light blue airtex
A blue jumper with our school crest (available to purchase in G & T drapery, Patrick Street, Tullamore)
Navy/black trousers or skirt (optional)
Black shoes
Plimsolls (indoor shoes to be kept in the classroom)
Tracksuit bottoms and runners may be worn on P.E. days.
HOMEWORK
Homework is given on Monday through to Thursday, no homework is given at weekends.
Home work – recommended length of time to be spent:
Junior and senior infants: up to 15 minutes
First and second class: up to 20 minutes
Third class: up to 30 minutes
Fourth class: up to 40 minutes
Fifth and sixth class: up to 1 hour
We advise parents to supervise their children's homework and to check over it on completion.
We expect all homework to be completed on time and to the best of the child's ability.