STAFFING AND ORGANISATION
Chairperson: Rev. Canon Isaac Delamere
Principal: Ms Gloria Mollison
Deputy Principal: Mr Jim Smyth
Junior and Senior Infants: Mrs Alison Dunican
First and Second Class: Ms Claire Finlay
Third and fourth Class: Mr Jim Smyth
Fifth and Sixth Class: Ms Jennifer Foster
SEN Team: Ms Gloria Mollison and Ms Michelle Maher
SNA Team: Mrs Sheila Crowe and Mrs Hilary Duncan
Caretaker: Mr Alan O'Brien
Secretary: Mrs Carol Dillon
SCHOOL HOURS
9.10 a.m. School doors open for children to enter the classrooms
9.25 a.m. Start of the school day
11.00 – 11.15 a.m. Small Break
12.50 – 1.15 p.m. Lunch
2.00 p.m. Junior and Senior Infants go home
2.50 p.m. End of school day
ASSEMBLY
Every Thursday morning our whole school gathers in the G.P. room for assembly.  Canon Isaac joins us too. We have Bible readings, prayers and we sing a new song every week. Each week one class group leads the assembly; usually dramatising a bible story and even dressing up in costume.  We share any special news we have and we celebrate birthdays. We really enjoy listening to Canon Isaac's stories which always have an important message.
OUR SCHOOL UNIFORM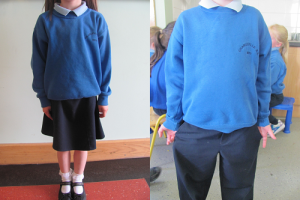 For our school uniform we wear:
A light blue airtex
A blue jumper with our school crest (available to purchase in G & T drapery, Patrick Street, Tullamore)
Navy/black trousers or skirt (optional)
Black shoes
Plimsolls (indoor shoes to be kept in the classroom)
Tracksuit bottoms and runners may be worn on P.E. days.
HOMEWORK
Homework is given on Monday through to Thursday, no homework is given at weekends.
Home work – recommended length of time to be spent:
Junior and senior infants: up to 15 minutes
First and second class: up to 20 minutes
Third class: up to 30 minutes
Fourth class: up to 40 minutes
Fifth and sixth class: up to 1 hour
We advise parents to supervise their children's homework and to check over it on completion.
We expect all homework to be completed on time and to the best of the child's ability.